COVID-19 Wastewater Surveillance in Ontario
Wastewater surveillance is used by public health experts to track and monitor diseases, including COVID-19. This is done by testing community wastewater for the presence of SARS-CoV-2 from infected individuals —called the wastewater signal. This report presents the wastewater signal for Ontario, as well as its sub-regions.
Acknowledgement: The COVID-19 Wastewater Surveillance in Ontario report is based on the original work of the Ontario COVID-19 Science Advisory Table entitled, Wastewater Signals in Ontario, September 6, 2022.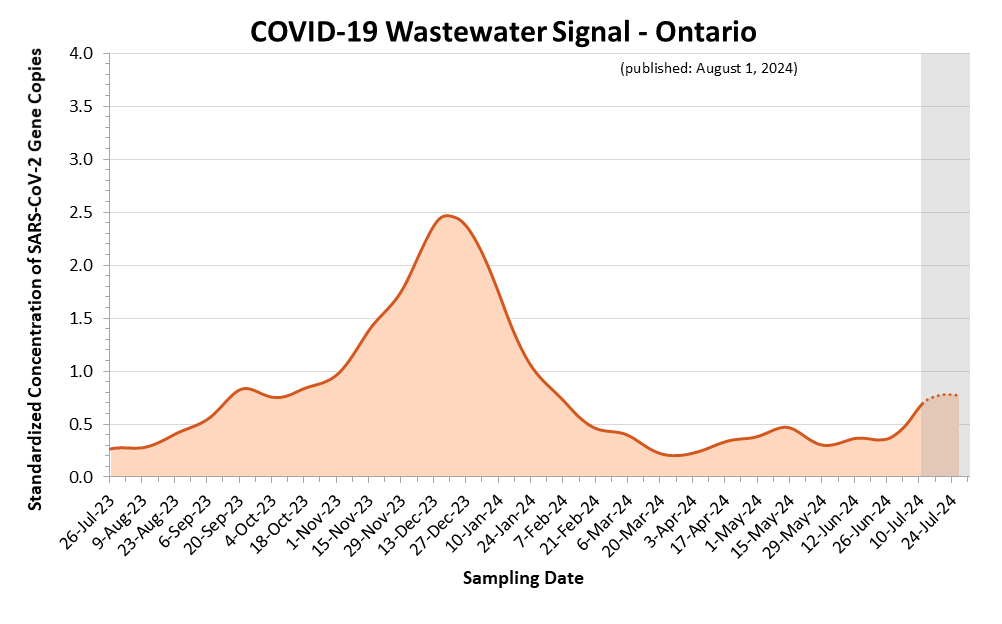 This report is updated Thursdays at 4:30 p.m. ET (based on data extracted on Wednesdays)
Grey Background: The dotted portion of the curves highlighted with a grey background should be interpreted with caution. These estimates have a higher likelihood of changing in future updates due to a combination of reasons, including but not limited to the analytical approach used, new data submissions for recent days or updates to previously reported data.
Ontario sub-regions: These refer to the following geographical groupings of public health units:
North West: Northwestern Health Unit and Thunder Bay District Health Unit.
North East: Algoma Public Health; North Bay Parry Sound District Health Unit; Porcupine Health Unit; Public Health Sudbury & Districts; and Timiskaming Health Unit.
Eastern: Eastern Ontario Health Unit; Hastings Prince Edward Public Health; Kingston, Frontenac and Lennox & Addington Public Health; Leeds, Grenville & Lanark District Public Health; Ottawa Public Health; and Renfrew County and District Health Unit.
Central East, excluding GTA: Haliburton, Kawartha, and Pine Ridge District Health Unit; Peterborough Public Health; and Simcoe Muskoka District Health Unit.
Greater Toronto Area (GTA): Durham Region Health Department; Halton Region Public Health; Peel Public Health; Toronto Public Health; and York Region Public Health
South West: Chatham-Kent Public Health; Grey Bruce Health Unit; Huron Perth Public Health; Lambton Public Health; Middlesex-London Health Unit; Southwestern Public Health; and Windsor-Essex County Health Unit.
Central West, excluding GTA: Brant County Health Unit; Haldimand-Norfolk Health Unit; City of Hamilton Public Health Services; Niagara Region Public Health; Region of Waterloo Public Health and Emergency Services; and Wellington-Dufferin-Guelph Public Health.
How to cite this page: Ontario Agency for Health Protection and Promotion (Public Health Ontario). COVID-19 wastewater surveillance in Ontario. Toronto, ON: King's Printer for Ontario; 2023.
You need a MyPHO Account to save this page.
You have successfully created a MyPHO account!
Use MyPHO to save content relevant to you, take online courses and register for subscriptions.
You must be logged in and have the correct access level to access this product.