Knowledge Services
The Knowledge Services department provides specialized services to advance public health knowledge and practice in Ontario. We're applying information and computer sciences to public health practice research and learning. We are bridging the gap between evidence and action in public health.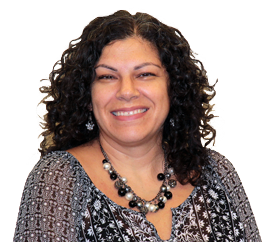 Antonietta Palumbo
Director, Knowledge Exchange
Antonietta Palumbo leads the team responsible for the development and implementation of PHO's knowledge exchange strategies, including the synthesis, application and dissemination of research and scientific evidence. Knowledge Exchange serves as an organizational resource and includes support for knowledge mobilization, education, library services and event planning.
Antonietta brings more than 20 years of progressive management, leadership and communications experience in the public sector, including the Workplace Safety and Insurance Board, the Ministry of Transportation, the Ministry of Tourism, Culture and Recreation, and senior roles in both a Minister and Chair's office. She is a seasoned and dynamic leader with well-rounded expertise in all areas of communications, particularly stakeholder engagement, issues management, strategic planning and change management. Antonietta has designed and implemented comprehensive communications programs to foster collaboration and enhance overall reach and effectiveness that have ultimately enabled organizations to fulfil their goals and priorities.
The department includes:
Informatics: translates data to knowledge to advance public health practice and improve population health outcomes.  It manages PHO's website, and provides specialized support for the acquisition, synthesis, analysis, interpretation and presentation of data and information.
Knowledge Exchange and Communications: supports the development, dissemination and evaluation of PHO's products and resources, as well as robust professional development programs for Ontario's public health workforce including research and library services.
You need a MyPHO Account to save this page.
You have successfully created a MyPHO account!
Use MyPHO to save content relevant to you, take online courses and register for subscriptions.
You must be logged in and have the correct access level to access this product.