COVID-19 and Respiratory Viruses PCR Nasopharyngeal Collection Instructions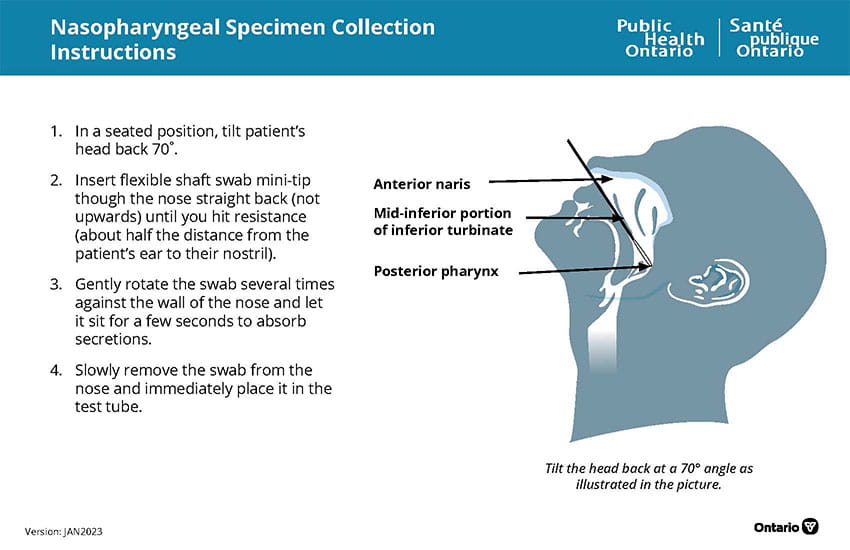 Click here to download the visual instructions of the Nasopharyngeal Specimen Collection Instructions
Instructions
The patient should NOT eat, drink, chew gum, smoke, or vape for at least 30 minutes before collecting the specimen.
Wash your hands and wear appropriate personal protective equipment (PPE). This can include a protective gown, gloves, a face mask, and a face shield.
Label a test tube with the patient's full name, date of collection and one other unique identifier such as the patient's date of birth or Health Card Number.
Failure to provide all required information may result in testing disqualification or delay.
Complete all fields of the COVID-19 and Respiratory Virus Test Requisition.
Unwrap the swab from its package being careful to only hold the distant end of the swab shaft opposite the soft swab tip.
Collect the specimen following the procedure illustrated above.
Place the swab, soft tip first, into the test tube.
Break the swab shaft evenly at the intended breakpoint line.
Do not bend the swab shaft instead of breaking it.
Reseal the test tube cap, twisting tightly.
Failure to recap the test tube properly may result in leakage and testing disqualification.
Place the specimen in the main compartment of the biohazard bag.
Place the fully completed test requisition in the outer side pocket of the biohazard bag so that it is not exposed to the specimen.
Wash your hands and confirm how to process the test to the lab.
To maintain optimum viability, the specimen should be stored and transported at 2-8°C. If transport to the laboratory will be delayed for longer than 72 hours, specimen should be frozen at -70°C or below and shipped on dry ice.
Storage of unused kits
Unused kits should be stored at 2-25°C until used. Improper storage will result in a loss of efficacy. Kits should only be stored up until their expiry date.
Some collection kits may have expiration dates extensions beyond the manufacturer label. The list of expiry extensions for COVID-19 testing products is available through the Ontario Health COVID-19 Health System Response Materials page.
Limitations
Only swabs designed for nasopharyngeal collection (see PHO's COVID-19 PCR Collection Kitspage for details) should be used. Caution and clinical judgment may be advised when swabbing individuals with recent facial trauma, severe epistaxis, and/or significant abnormality of the nasopharyngeal anatomy.
You need a MyPHO Account to save this page.
You have successfully created a MyPHO account!
Use MyPHO to save content relevant to you, take online courses and register for subscriptions.
You must be logged in and have the correct access level to access this product.