Avian Influenza – Real-time PCR
Public Health Ontario Laboratory is currently responding to cases for highly pathogenic avian influenza (H5N1) in birds across Ontario. The investigation number ONT-2022-00001 should be included on all requisitions for exposures related to infected birds. Testing for symptomatic individuals will include COVID-19, avian influenza and multiplex respiratory virus PCR.
*Uncontrolled print copy. Valid only on day of print: 26 March 2023.
Specimen Requirements
Test Requested
Required Requisition(s)
Specimen Type
Minimum Volume
Collection Kit

Avian Influenza

Nasopharyngeal swab, or throat swab

1 swab in the collection kit media

Avian Influenza

Bronchial Alveolar Lavages (BAL), or pleural fluid

2.0 ml

Sterile container

Avian Influenza

Respiratory tract tissue

1.0 g

Sterile container

Avian Influenza

Stool (Do not submit until approved by PHOL microbiologist)

2.0 grams

Sterile container

Virus Enteric Collection Kit (sterile container, Order number 390087)

Avian Influenza

Blood/Serum (Do not submit until approved by PHOL microbiologist)

5 ml whole blood or 1.0 ml serum

Serum separator tubes (SST)
Submission and Collection Notes
1
If you suspect avian Influenza contact your local health unit, and also contact PHO Laboratory Customer Service Centre at 1-877-604-4567 prior to submitting specimens. Sample types other than nasopharyngeal swabs, nasopharyngeal aspirates, bronchial washes (if available) or throat swabs require approval by a PHOL microbiologist. Testing may be arranged on weekends if approved by a PHOL microbiologist. Contact the PHOL After-hours Emergency Duty Officer at 416-605-3113 for after-hours consultation.
• The following specimens should be collected on all patients being tested for avian influenza:
respiratory tract samples (e.g., nasopharyngeal (NP) swab plus bronchoalveolar lavage (BAL) when possible); lung tissue if obtained (e.g. biopsy, post-mortem)
a viral throat swab in viral transport media should also be collected on all hospitalized patients.
• Stool and EDTA blood are not routinely tested for avian influenza but may be tested if avian influenza is detected in respiratory specimens. Submission requires approval of the PHOL microbiologist.
• Note: serology testing is not recommended for influenza diagnosis, including avian influenza, and is not available for clinical testing in Canada.
For more information refer to Guidance for Health Care Workers and Health Sector Employers on Asian lineage Avian Influenza A(H7N9)
Storage and Transport
Place specimen in biohazard bag and seal. Specimens should be stored at 2-8°C following collection. Package and ship primary clinical samples to the local PHOL in accordance with the Transportation of Dangerous Goods Regulations.

Mark the outer packaging containing avian Influenza specimens: 'Attn: Molecular Diagnostics'.
Special Instructions
Complete all fields of the PHO General Test Requisition Form.
In Section 3 – Test(s) Requested order avian influenza, COVID-19 and multiplex respiratory virus PCR (MRVP) (See example below).
Travel history and clinical information must be provided. Indicate the following: travel to farms or areas experiencing avian influenza; symptoms including pneumonia; high risk status for respiratory viral infection complications; patient setting; admission status at time of collection (if known).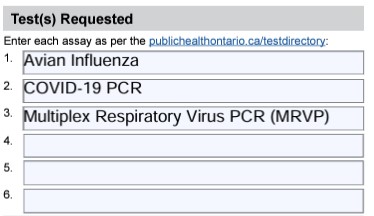 Test Frequency and Turnaround Time (TAT)
Influenza A testing is performed Monday to Friday.

The TAT for influenza typing is 1-2 days from specimen receipt at testing site.

Preliminary subtyping will be completed within 2-3 days from specimen receipt at testing site.

Positive samples will be forwarded to the National Microbiology Laboratory (NML) for confirmation.
Specimens will initially be tested for Influenza A and B by a CDC in-house Real Time PCR assay.
Influenza A positive specimens will be tested for H1N1pdm09, Human H3, avian H5, avian H7, and N9 subtypes.
Specimens from symptomatic patients will also be tested for other seasonal respiratory viruses as well as SARS-CoV-2.
*Uncontrolled print copy. Valid only on day of print: 26 March 2023.
You need a MyPHO Account to save this page.
You have successfully created a MyPHO account!
Use MyPHO to save content relevant to you, take online courses and register for subscriptions.
You must be logged in and have the correct access level to access this product.