Phylogenetic Analysis of SARS-CoV-2 in Ontario
Genome sequencing, analysis and epidemiology of SARS-CoV-2 is important for understanding the evolution and spread of SARS-CoV-2 in Ontario. This
interactive tool
supports genomics researchers and experts, epidemiologists, virologists and public health experts explore the evolutionary relationships between SARS-CoV-2 sequences and view the genetic diversity across the entire genome.
Data in the tool can be filtered by:
Ontario Health Region
Pango lineages, including variants of concern lineages
age group
sex
genotype
country
Clades: Nextstrain and GISAID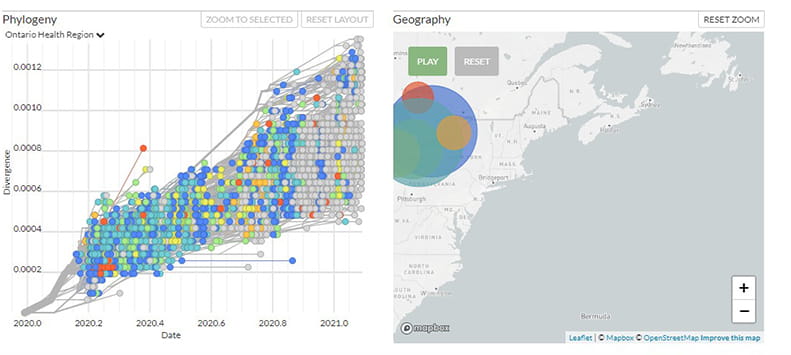 View Phylogenetic Analysis of SARS-CoV-2 in Ontario
The data in this tool includes SARS-CoV-2 samples sequenced at Public Health Ontario and does not include samples sequenced at other laboratories at this time.
The tool is updated Thursday between 4 and 6 p.m. ET and may be unavailable at this time. View the Technical Notes for more information on what is included in the tool.
The tool is best viewed using Google Chrome, Mozilla Firefox and Microsoft Edge.
Nextstrain
This interactive tool uses the open source platform Nextstrain, which provides powerful analytic and visualization tools to support genomic analysis of pathogens like SARS-CoV-2.
To learn more about Nextstrain or support using and interpreting data in the tool, visit the Nextstrain documentation webpage for a variety of resources, tutorials and user-guides.
Event
PHO Rounds: Doxy-PEP for STI Prevention in Cisgender gbMSM, PLHIV and Trans Women
In this Rounds presentation, presenters will explore research on doxy-PEP and various vital considerations for this STI prevention strategy.
See the Event Details
You need a MyPHO Account to save this page.
You have successfully created a MyPHO account!
Use MyPHO to save content relevant to you, take online courses and register for subscriptions.
You must be logged in and have the correct access level to access this product.